18 ago
Fundecitrus launched the campaign "United against Greening" to promote a greater control of the disease categories:
Fundecitrus
,
Greening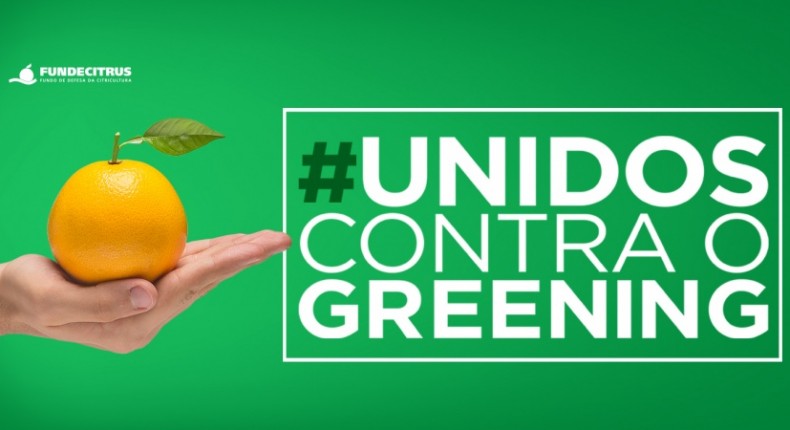 The action also gained social networks using the  #unidoscontraogreening
Aiming at increasing the control of citrus greening (huanglongbing / HLB), the Brazilian Citriculture Defense Fund (Fundecitrus) launched the "United Against Greening" campaign in mid-June in order to raise awareness of the different chains of the citrus sector and society on the impact of the disease that causes loss of fruits and decreases the productivity of groves.
The campaign aims to engage the whole society in fighting the areas that still have no control of the disease. In order to do that, several actions are being taken, such as the incentive to replace citrus plants in backyards for seedlings of other fruit trees. The campaign also gained social networks with people using the #unidoscontraogreening, both on Facebook and Instagram, with pictures showing management activities and control of the disease.
To announce the campaign, Fundecitrus has released a video, and the English version can be seen here: https://www.youtube.com/watch?v=LsulgbEJWaA
There's also a microsite where information about the disease, its impact, the progress of the campaign and how to help is available. For more information please visit www.unidoscontraogreening.com.br
The citrus industry and citrus greening
Identified in 2004 in the citrus park of São Paulo and Minas Gerais, citrus greening has already caused the eradication of 100 thousand hectares and the elimination of 46 million plants. The psyllid Diaphorina citri is the insect that transmits the bacteria that cause the disease, and lives in citrus plants (orange, tangerine, lemon and sour lime trees) and myrtle (Murraya spp.), popularly known in Brazil as "lady of the night". The abandoned, organic, and backyard orchards in urban and rural areas, which do not receive applications for disease control, are also important breeding sites for the transmitter and the bacteria. The citrus industry moves $14 billion annually and generates 200,000 direct and indirect jobs (data from the Markestrat's study) in around 350 towns of the citrus belt of São Paulo and Minas Gerais.